Paul-Yu Industrial Corp. is not only a very creative maker of decorative lamps, but also a shrewd operator: the firm knows to curtain its exhibits at international trade fairs, so as to showcase all unique and magnificent products to VIP buyers keeping them calm and ensured throughout the event and minimize disturbances from window-shoppers' bothersome questions.

Besides using a variety of artistic motifs, the firm also adopts virtually endless materials, over 10,000 kinds, in combinations to create a line of products, including for examples paper, wood, foliage, stone, rattan, seashell, copper, iron, ceramic, PVC, polyresin, glass, bamboo, fabric, etc.

The company markets under its "TAROGO" brand, spun from Taroko or the name of a Taiwan national park, and fills OEM orders.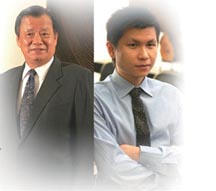 Paul-Yu Ind. Corp.
Asia Plaza, 8F., No. 68, Sec. 4, Jen Ai Rd., Taipei City, Taiwan
Tel: 886-2-2700-3286
Fax: 886-2-2709-2314, 2709-8687
E-mail: lucyyu@paulyu.com.tw
E-mail: paulyutp@ms31.hinet.net
http://www.paulyu.com.tw